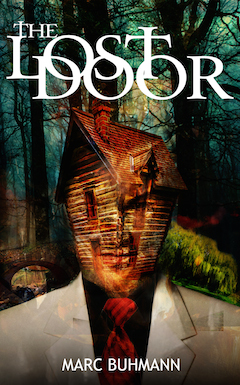 SYNOPSIS
River Bend. A peaceful scenic tourist town in rural Wisconsin. To outsiders it is a little slice of heaven, but to those who live within its borders a darkness lies in wait.
Four broken strangers are unwittingly tied to a tragic accident that happened more than fifty years ago. Stavic is the small town deputy investigating a series of grisly murders. Willem is haunted by the disappearance of his abusive father and the death of his youngest brother. Claire is an alcoholic mother who is hiding a terrible secret. And at the center of it all is David, an elderly man who has returned after a twenty year absence. Together they will have to work together to save themselves.
The Lost Door strategically weaves their stories, culminating in a shocking final confrontation.
REVIEWS
"If you love thrillers, from Jefferey Deaver to Dean Koontz, then Marc Buhmann deserves to be on your watchlist, and The Lost Door deserves your consideration next time you're ready to crack open a good book." –OnlineBookClub.org
"I found The Lost Door to be an entertaining and intense read. The author does a superb job in keeping the mystery and suspense going throughout the entire book." –Readers' Favorite
"The Lost Door is worth a read. It ends on a very entertaining and satisfying note that deftly answers the mounting questions and ties up loose ends." -Amazon Reviewer
"Once all the pieces started coming together, I was hooked." -Amazon Reviewer
"It is definitely a different flavor of science fiction/fantasy that the normal. In that aspect, it was refreshing. It is more subtle in it's approach to the big reveal at the end. Until this point the reader is not quite sure where on the genre radar the book falls. I cannot pin it down any better than science fiction/fantasy. It is a unique read." -Amazon Reviewer
"This book has many elements of suspense with twists throughout. I read it in one day because I needed to know what was going on." -Amazon Reviewer
Ebook and Print Availability: Amazon – CreateSpace
Audiobook Availability: Amazon – Audible – iTunes